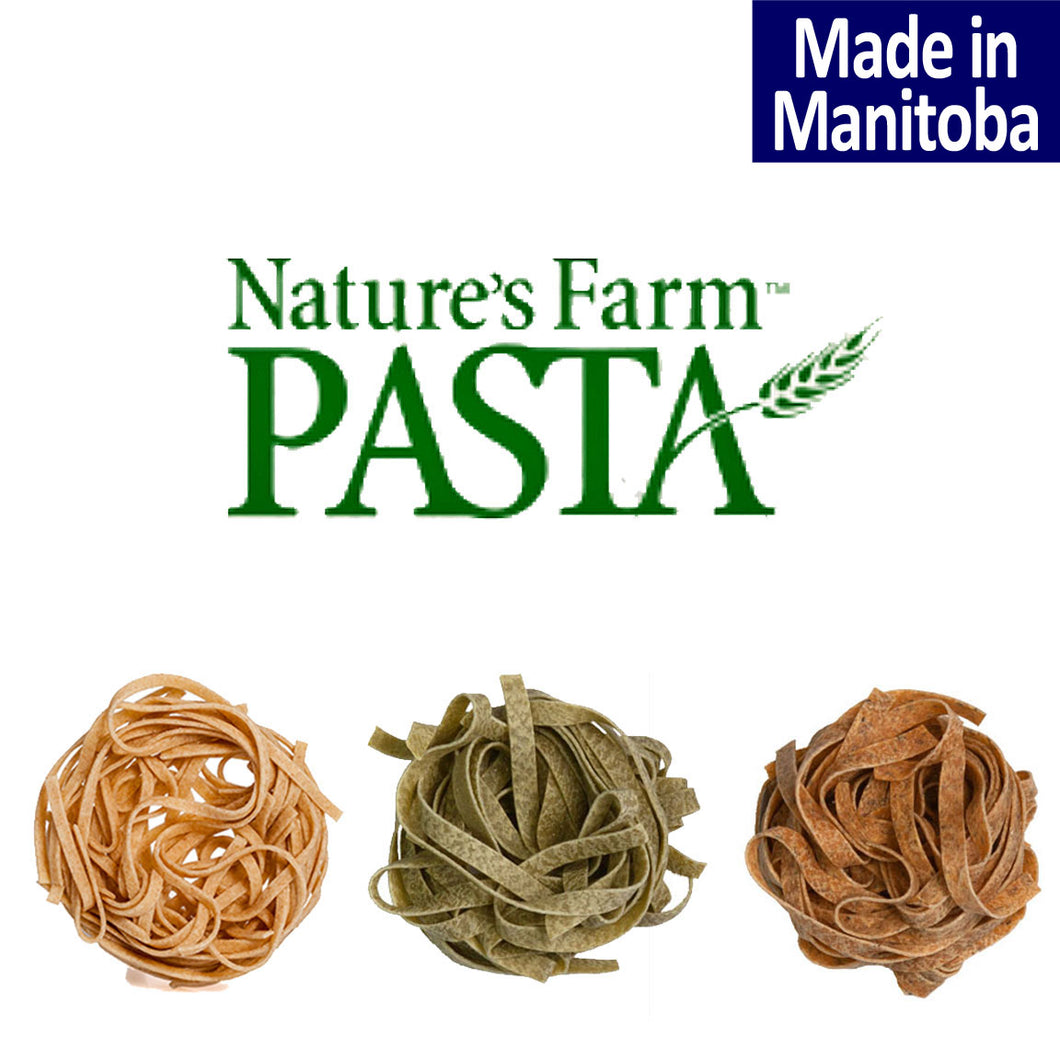 Nature's Farm Pasta
Nature's Farm Pasta™ is a line of wholesome and delicious pasta from Nature's Farm, local farmers and producers in Steinbach. They only use world–famous Canadian durum wheat and farm-fresh free-run eggs (from hens fed an all–natural vegetarian diet) to bring you outstanding flavour. Strict adherence to old–world, small–batch production methods has created gourmet pasta that continues to set new standards in taste, texture, and quality.
Prairie Oils & Vinegars is pleased to offer a small variety of their specialty pastas for you to enjoy and dress with your favourite oils and vinegars to create tasty dishes.
Ideas:
Drizzle cooked pasta with an Infused Olive Oil to prevent the noodles from sticking together.

Dress cooled pasta with oil and vinegar for a delicious pasta salad.
Recipes:
Try the fettuccine with our Chicken with Creamy Alfredo Sauce! Features our Garlic Olive Oil or Tuscan Herb Olive Oil and Butter Olive Oil to execute a creamy and rich - but heart healthier - version of this classic. Comfort food at its finest.

Try the Spicy Curry & Lime Fine Noodles with our Spicy Curry Thai Noodle Dish! Easy to prepare and just the right amount of spicy, this dish can be served hot or cold and features our Fig Balsamic and Curry Olive Oil or Blood Orange Olive Oil.

Try the Four Veg Orzo with our Picnic Pasta Salad! Features our Basil Olive Oil and Italian Herbs Balsamic in a simple cold noodle salad. Perfect potluck dish and your new family favourite!

And more! Use our Recipe section to find more pasta recipes and use your favourite noodles to create them at home!
*Please be aware as this is high quality artisanal pasta, it is quite delicate. Because we cannot control all events it may encounter during the shipping process, there is a chance it may arrive with noodles partially broken. We thank you for your understanding and assure you it will still taste just as good!