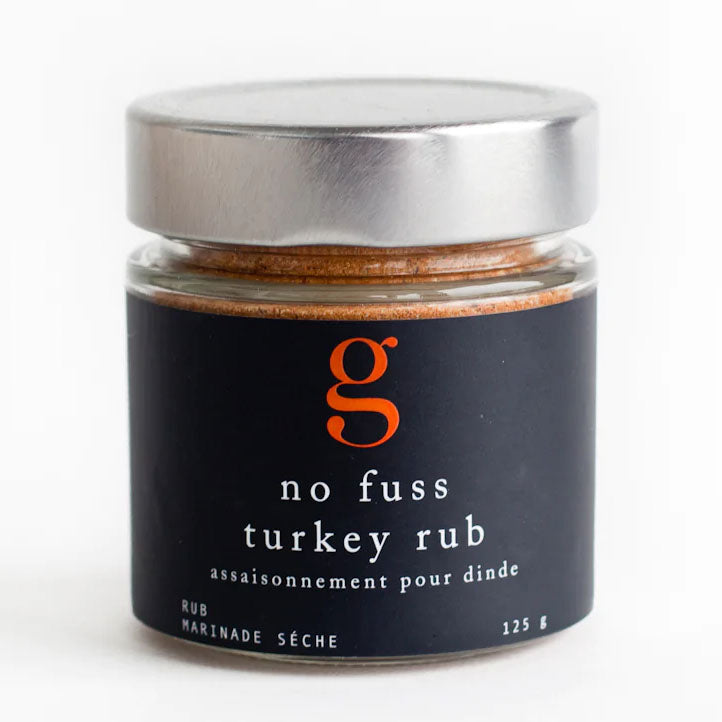 Gourmet Inspirations No Fuss Turkey Rub
Created in collaboration with Prairie Oils & Vinegars, Chef Peter Fehr brings us the new and improved No Fuss Turkey Rub! Never worry about your turkey again - you'll have the perfect tasting bird with no brining, no basting, no worrying.
Here's the simple recipe:
Perfect Roast Turkey
1/4 c. No Fuss Turkey Rub
1/2 c. Robust Super Premium Extra Virgin Olive Oil
large turkey (approximately 15-20 lbs)
Mix No Fuss Turkey Rub with EVOO to make a paste. Rub all over turkey or use a silicone brush to coat. 
Roast according to your favourite method or check out our full recipe here:
Notes:
If your bird is especially large, you may need to adjust as you go and just sprinkle over a little more spice rub.

Remember to keep the drippings because this rub creates an amazing gravy!
Also try any Infused Olive Oil you love, like Garlic or Mushroom & Sage.
Can also cut some of the oil with a small amount of Champagne Vinegar or even Grand Marnier orange liqueur for a gourmet touch!