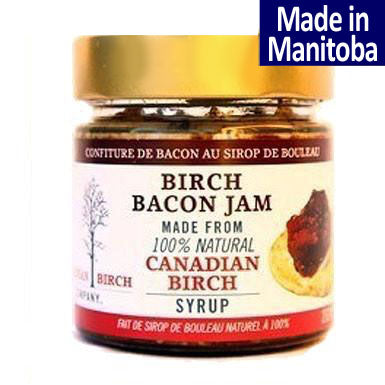 Canadian Birch Company Birch Bacon Jam
Regular price $20.85 Sale
Finely crafted from pure, natural birch sap, The Canadian Birch Company syrups embody the essence and aromas of the vast forests of Central Canada. From their first-tap Amber Gold Birch Syrup to the late-season Dark Birch Syrup, every bottle is a labour of love that showcases the quality and passion of their master craftsmen.
We invite you to explore the unique, complex and subtle flavours of their birch syrup offerings, and discover how this company's commitment to quality, to their craftsmanship and to new innovations sets The Canadian Birch Company apart as the gold standard for birch syrup.
Birch Bacon Jam
A phenomenal topping for burgers and smokies and so much more. Tasty on cheese and baked potato, a side for grilled and roasted meats and a great addition to grilled cheese or BLT sandwiches. 
2 Sizes of Jars to Pick from: 
212mL OR
110mL