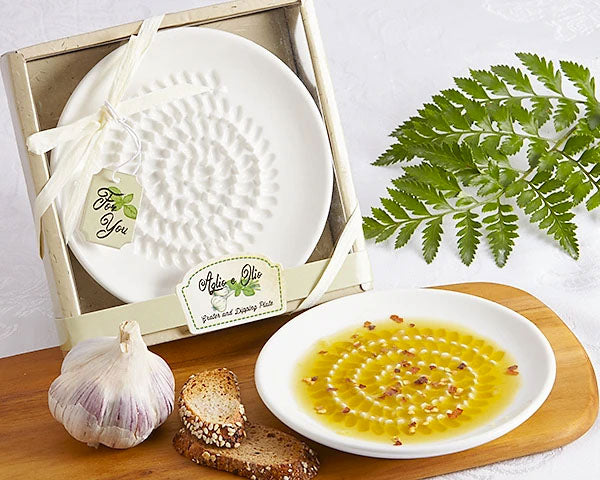 Grater & Dipping Plate
This European-style dipping bowl features a functional 'grater' in the centre of the plate. Used the raised ridges to grate your favourite herbs and spices to create a custom bread dipping or appetizer experience. Grate fresh garlic, shallot, parmesan, and nuts - or ginger, or even chocolate! For a beautiful plate, grate a bit of carrot, or muddle some red pepper, chilies, or other herbs. How about zesting a lemon, lime or orange? By using fresh ingredients, you can get full flavour extraction without waste and all the health benefits! 
Now, pour our Super Premium Extra Virgin Olive Oil over the top of your selected ingredients - go ahead and take it to the next level by drizzling your favourite Balsamic, too! You're ready to dip into your extraordinary all-natural recipe with your finest crusty bread and let the taste transport you to foodie heaven.
A gorgeous and useful piece to add to your own serveware collection, give as a special gift for a wedding, or as a favour for any special event.
Features: 
Made of high quality porcelain; dishwasher safe
Round plate with gradual raised perimeter featuring centre spiral pattern raised "teeth" for grating garlic (or other root vegetables, hard cheeses, chocolate and more!) and recessed to mix with olive oil
Grated garlic/foods provide more flavour than chopping and retain their healthful antioxidant benefits versus cooking
Clear covered gift box in earth tone olive colours with themed title banner. Completed with natural coloured raffia ribbon and bow, including themed "For You" gift tag
Packaged favor dimensions approx. 5.75" x 6.0" x 1.25" (14.5 x 15 x 3 cm). Plate diameter 5.3" (13.5 cm d).